Landscape Lighting Long Island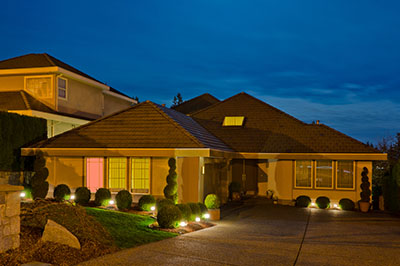 A landscape lighting design is an exceptional way to add beauty and value to your home. The lighting designers at Old Mill will turn your home into the showcase of the neighborhood by highlighting your home's best features and architectural details. Old Mill offers the highest quality fixtures installed at the best prices on long island. We design outdoor lighting to increase your property value, safeguard your home, and turn it into a place where you can enjoy the outdoors long after the sun goes down. Old Mill transforms backyards into beautiful outdoor living areas by focusing on everything from the big picture down to the small details that really tie together all aspects of a project. Two of those details are your outdoor landscape lighting and outdoor audio system.
Outdoor Audio Installation Long Island
It's time to get out and enjoy the fresh, Long Island air. It's the perfect time for barbecues and family get togethers but one fact remains: A party isn't any fun without the right music. Without anything to draw you outside, it's easy to just stick with your indoor spaces. However, with the right outdoor audio system, you'll be hard pressed to come back inside. Call today to get a free estimate for your outdoor lighting and audio needs.
Contact Old Mill Nurseries today to inquire about our services and schedule a consultation appointment!
516-271-1886