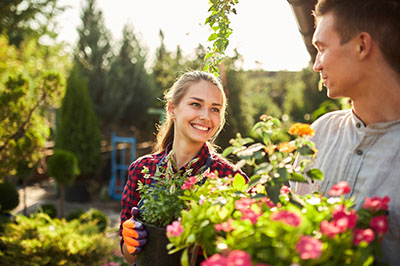 Family owned and operated since 1999 Old Mill Nurseries has become one of the largest garden centers in Nassau County. With emphasis on customer service and consistently unique products, Old Mill offers a selection, which can satisfy even the most eclectic palate. All of our material is handpicked from sources throughout the country and we welcome special ordering throughout the year. Old Mills dependable team of professionals can install all of our material as well as design the landscape of your dreams and of course all of our work and products are guaranteed.
Old Mill offers hundreds of varieties of broadleaf evergreen, deciduous ornamentals, rare coniferous plants and unique perennials all throughout the year. We understand that growing things makes us feel better, about ourselves, our property and the world around us. It reminds us that we're all connected, and Old Mill Garden Center is proud to help its customers make that connection in Merrick, NY.
At Old Mill Nurseries our garden center changes with the seasons. Spring brings the busiest time with our customers sprucing up their yards and gardens for the coming growing season. SPRING moves us outside to enjoy the wonderful flowers and plants that make your yard so special. Fall is the time to renew your lawn and a great time to plant. The weather is cooler for you and you plants. This is the time to do any transplanting.
Even though we are located in Nassau, we have a lot of customers that come from Suffolk County and Queens. We think the quality of our stock is one of the reasons people come to us. Of course our main focus is to give our customers honest advice on whatever garden project they on working on. For the last 20 years we have been promoting the use of organics in the garden. We carry the best organic products and everything we sell we use personally, around the garden center and on our landscape jobs.
Stop in today or give us a call to talk about your next project in Merrick, NY.
516-271-1886